Run, Forest, Run
October 29th, 2014, 2:07 am
So I ran a half marathon last weekend.

That's 13.1 miles of running (for my non-American friends, that's 21.08 kilometers). That's a lot of running; not as much as full marathon, of course, but still more than your average run to the grocery store (which usually involves driving instead of running). Why would anyone want to do so much running anyway, especially so early on a Sunday morning? Was I preparing for an apocalypse by some of those fast-running zombies from that "Dawn of the Dead" remake?

I've been in fairly good shape most of my life. I was lively, fit and quick on the trigger. I could eat like a hog, but remained as slim as a blade of grass. However, within the last few years, I've found myself becoming increasingly lethargic and was starting to resemble a tumbling tumbleweed.

Last May, in an effort to avoid becoming the amazing Tumbling Tumbleweed-Man , I decided to go running. It was easy to do, didn't require any membership fees and it got me out of the apartment. After a few of these runs, with my forehead and body drenched in sweat, an idea occurred to me. I should set a goal for myself, and run a marathon. I quickly dismissed this idea as the looney tunes of a half-baked brain deprived of oxygen for too long.

However, later that night, I went onto a social network and found a post by one of my good friends. She decided that she would do something bold by stepping out of her comfort zone and run a half marathon in October. She was excited and scared at the same time, but she was inspired by the challenge ahead of her.

She then asked if anyone wanted to join the fun.

That was the Universe saying "Run, Forest. Run."

In spite of this glaring sign, I still thought about it for a few days. I mean, training was going to take a lot of time and time was something that was in short supply. Plus, what if I tried and failed; someone might post something bad about me online. I could never show my face again on Facebook.

Inevitably, I signed up and for the next couple months... I sat around, watching Netflix. I watched the whole first season of "The Blacklist." Why hasn't James Spader done more work?

Around late July, feeling guilty, I put on my sneakers and decided that I was going to run a mile. I ran for about 30 seconds. Huffing and puffing, I walked the rest of the way. Every couple of days or so, for the next few months, this same scenario repeated itself but I would run a little further each time.

When the day of the race finally arrived, I was well able to run for extended periods of time. Still, around the ten-mile mark, I wanted to stop. I was tired, sore, light-headed and I had to go to the bathroom. But I kept running anyway.




Eventually, I finished and I got this medal.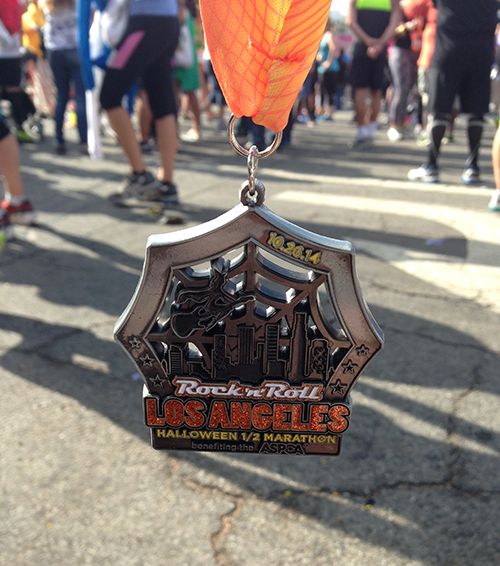 I know this is no big deal to some, but it was something that I didn't think I was capable of at this time. Bruce Lee said that if you put a limit to things, then it will spread into your work and into your life. He said that there are no limits, only plateaus, but that we mustn't stay there. We must go beyond them.

So, anyway, I ran the race, got into shape, found some new self-esteem and now I think I'm Bruce Lee. I'm ready for that zombie apocalypse now.

JR