Destroy All Pokemon... err, Monsters
November 26th, 2015, 12:47 am
Welcome to our first official Tokusatsu Thanksgiving, and we're starting it off with the kaiju-styled Royal Rumble wrestling match, "Destroy All Monsters."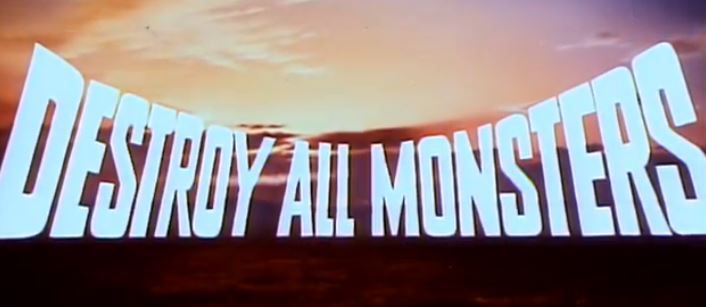 When you're ten years old, there is no better experience in the world than watching a Saturday afternoon show of giant monsters dueling to their deaths. Not even a pepperoni pizza and root beer could drag me away from the TV when one of those were on.

However, making giant monster movies was becoming expensive for Toho Studios back in 1968 so they decided to end the Godzilla franchise with one last hurrah. All of the original creators from the earlier movies were brought back, and a menagerie of monsters were added to the mix (eleven in total, albeit some of them only had a couple seconds of screen time).

Admittedly, this movie isn't as good as it seems when you're ten years old. The basic premise is about aliens from another planet controlling all of the world's monsters in an attempt to conquer the Earth. However, all of the scenes without the monsters are slow and somewhat boring. Even though this movie's plot is similar to the one for "Monster Zero," the human characters aren't nearly as engaging. Yes, we watch these movies for the creatures but without somewhat compelling human personalities, you're going to lose interest or press fast-forward.

The aliens are kinda cool. They are called Kilaaks, and they're strange, metallic worms disguised as sexy space women. As a little boy, looking at them made me feel funny.




Of course, the final battle with all of the monsters is what everybody remembers. Godzilla leads the charge against King Ghidorah in an all-out assault in the shadow of Mount Fuji. It's one of the most entertaining monster fights put on screen, even though the wires show. The effects are far from convincing, especially compared to our age of CGI-effects, but they have their own charming aesthetic.




Of course, "Destroy All Monsters" wasn't the last Godzilla movie nor is it one of the best. The movie lacks the depth of the original "Gojira," and it's not nearly as cool as "Monster Zero." However, for the ten-year old hiding inside, it's the most perfect film ever made.

Happy Thanksgiving.

JR